ENFRENTANDO EL COVID-19
Estudio comparativo sobre el comportamiento social de las personas de origen dominicano que viven en los Estados Unidos de América
Palabras clave:
Pandemia, COVID-19, Estrés, Redes sociales, Medios de comunicación, Stress, Virus SARS-CoV-2
Resumen
Este estudio se deriva de una encuesta basada en una muestra probabilística de 794 personas y representativa de mayores de 18 años, de origen dominicano, residentes en los siete estados donde habita aproximadamente el 85 % de los dominicanos que viven en EE. UU.: Nueva York, Nueva Jersey, Florida, Massachusetts, Pensilvania, Rhode Island y Connecticut. Los resultados estadísticos revelados en este artículo versan sobre tres aspectos sobre las personas de origen dominicano que residen en los EE. UU. durante la pandemia del SARS-CoV-2 virus o COVID-19: a) la incidencia del virus y la propensión a cumplir con las normas establecidas por las autoridades de salubridad; b) el estrés sufrido ante el temor, el confinamiento y el control social; y c) la evidencia de un cambio generacional expresado en el uso de medios de comunicación y redes sociales para recibir información sobre el virus y el estado nacional de salubridad. Este estudio es el primero en su género en desagregar a las personas de origen dominicano en los EE. UU. y analizar cómo se han visto afectadas por la pandemia del COVID-19. La población objeto de estudio fue entrevistada entre el 5 de octubre y el 11 de noviembre de 2021
Descargas
Los datos de descargas todavía no están disponibles.
Citas
Aldridge, R. W., Lewer, D., Katikireddi, S. V., Mathur, R., Pathak, N., Burns, R., Fragaszy, E. B., Johnson, A. M., Devakumar, D., Abubakar, I., & Hayward, A. (2020). Black, Asian and Minority Ethnic Groups in England Are at Increased Risk of Death from COVID-19: Indirect Standardisation of NHS Mortality Data. Wellcome Open Research, 5, 88. https://doi.org/10.12688/wellcomeopenres.15922.2.
COVID Collaborative. (2020). Coronavirus Vaccine Hesitancy in Black and Latinx Communities. https://www.covidcollaborative.us/content/vaccinetreatments/ coronavirus-vaccine-hesitancy-in-black-and-latinx-communities
Feldman, J. M., & Bassett, M. T. (2021). Variation in COVID-19 Mortality in the US by Race and Ethnicity and Educational Attainment. JAMA Network Open, 4(11), e2135967. https://doi.org/10.1001/ jamanetworkopen.2021.35967
Ford, T., Reber, S., & Reeves, R. (2020). Race Gaps in COVID-19 Deaths Are Even Bigger than They Appear. Brookings. https://www.brookings.edu/blog/up-front/2020/06/16/ race-gaps-in-covid-19-deaths-are-even-bigger-than-they-appear/.
Garg, S., Kim, L., Whitaker, M., O'Halloran, A., Cummings, C., Holstein, R., Prill, M., Chai, S. J., Kirley, P. D., Alden, N.B., Kawasaki, B., Yousey-Hindes, K., Niccolai, L., Anderson, E. J., Openo, K. P., Weigel, A., Monroe, M. L., Ryan, P., Henderson, J., … Fry, A. (2020). Hospitalization Rates and Characteristics of Patients Hospitalized with Laboratory-Confirmed Coronavirus Disease 2019: COVID-NET, 14 States, March 1–30, 2020. MMWR Morb. Mortal. Wkly. Rep., 69(15), 458-464. doi:10.15585/mmwr. mm6915e3PubMedGoogle ScholarCrossref
Hamel, Liz, Lopes, L., Sparks, G., Kirzinger, A., Kearney, A., Stokes, M., & Brodie, M. (2021). KFF COVID-19 Vaccine Monitor: September 2021. KFF. https://www.kff.org/coronavirus-covid-19/poll-finding/ kff-covid-19-vaccine-monitor-september-2021/.
Holtgrave, D. R., Barranco, M. A., Tesoriero, J. M., Blog, D. S., & Rosenberg, E. S. (2020). Assessing Racial and Ethnic Disparities Using a COVID-19 Outcomes Continuum for New York State. Annals of Epidemiology, 48, 9–14. https://doi.org/10.1016/j.annepidem.2020.06.010.
Jones, J., Sullivan, P. S., Sanchez, T. H., Guest, J. L., Hall, E. W., Luisi, N., Zlotorzynska, M., Wilde, G., Bradley, H., & Siegler, A. J. (2020). Similarities and Differences in COVID-19 Awareness, Concern, and Symptoms by Race and Ethnicity in the United States: Cross-Sectional Survey. Journal of Medical Internet Research, 22(7), e20001. https://doi.org/10.2196/20001.
Lardieri, A. Hispanics and Blacks Are Hardest Hit by COVID-19 in New York City. Published April 8, 2020. Accessed April 8, 2020. https://www.usnews.com/news/national-news/articles/2020-04-08/coronavirus-disproportionally-kills-hispanics-and-blacks-in-new-york-city.
Malik, A. A., McFadden, S. M., Elharake, J., & Omer, S. B. (2020). Determinants of COVID-19 Vaccine Acceptance in the US. EClinicalMedicine, 26, 100495.
Peter G. Szilagyi, Kyla Thomas, Megha D. Shah, Nathalie Vizueta, Yan Cui, Sitaram Vangala & Arie Kapteyn (2021) Likelihood of COVID-19 Vaccination by Subgroups Across the US: Post-Election Trends and Disparities, Human Vaccines & Immunotherapeutics, 17:10, 3262-3267, DOI: 10.1080/21645515.2021.1929695
Tregoning, J. S., Flight, K. E., Higham, S. L., Wang, Z., & Pierce, B. F. (2021). Progress of the COVID-19 Vaccine Effort: Viruses, Vaccines and Variants Versus Efficacy, Effectiveness and Escape. Nat Rev Immunol 21, 626–636. https://doi.org/10.1038/s41577-021-00592-.
Van Bavel, J. J., Baicker, K., Boggio, P. S., Capraro, V., Cichocka, A., Cikara, M., & Willer, R. (et. al, 2020). Using Social and Behavioural Science to Support COVID-19 Pandemic Response. Nature Human Behaviour, 4(5), 460-471.
Wong, M. D., Shapiro M. F., Boscardin W. J., Ettner, S. L. Contribution of Major Diseases to Disparities in Mortality. N Engl J Med. 2002; 347(20):1585-1592. doi: 10.1056/NEJMsa012979.
Díaz Pérez, M. (2021). Invenciones sobre COVID-19 registradas en Estados Unidos. Revista Cubana de Información en Ciencias de la Salud, 32(1).
Solórzaono Vélez, M. M. S., & Díaz, R. T. (2021). Impacto de la pandemia COVID 19 en la salud mental del personal que labora en el centro de salud Chone tipo C. RECIMUNDO, 5(2), 387-397.
Carpio Rodríguez, S. C., & Sanmartín Zumba, B. L. (2020). Efectos psicológicos asociados a la pandemia Covid-19 en el personal de salud y administrativo del Hospital Monte Sinaí de la ciudad de Cuenca (Bachelor's thesis, Universidad del Azuay).
Bello Castillo, I. E., Peterson Elías, P. M., Martínez Camilo, A. L., & Sánchez-Vincitore, L. V. (2021). Estrategias de afrontamiento: efectos en el bienestar psicológico de universitarios durante la pandemia del COVID-19. Ciencia y sociedad.
Cinelli, M., Quattrociocchi, W., Galeazzi, A., Valensise, C. M., Brugnoli, E., Schmidt, A. L., & Scala, A. (2020). The COVID-19 social media infodemic. Scientific reports, 10(1), 1-10.
Toro González, S., & Pérez Curiel, C. (2021). Populismo político en tiempos de COVID. Análisis de la estrategia de comunicación de Donald Trump y Boris Johnson en Twitter. Revista de Comunicación de la SEECI, 54, 1-24.
COVID-19, K. (11 de Jun de 2021). KFF COVID-19 Vaccine Monitor: Profile Of Unvaccinated. Obtenido de https://www.kff.org/coronavirus-covid-19/poll-finding/kff-covid-19-vaccine-monitor-profile-of-the-unvaccinated/.
Thebault, R., Ba Tran, A, & Williams, V. (2020, April 7). The Coronavirus Is Infecting and Killing Black Americans at an Alarmingly High Rate. Washington Post. https://www.washingtonpost.com/ nation/2020/04/07/coronavirus-is-infectingkilling-black-americans-an-alarmingly-high-rate-post-analysisshows/?arc404=true.
Gupta, S. (2020, April 10). Why African Americans may be especially vulnerable to COVID-19. ScienceNews. https://www.sciencenews.org/article/ coronavirus-why-african-americans-vulnerable-covid-19-health-race
Maqbool, A. (2020, April 11). Coronavirus: Why Has the Virus Hit African Americans so Hard? BBC News. https://www.bbc.com/news/world-us-canada-52245690.
Chinni, D. (2020, April 12). Coronavirus Risk for African Americans Tied to More than Race. NBC News. https://www.nbcnews.com/politics/meet-the-press/ coronavirus-risk-african-americans-tied-more-race-n1182146
Singh, M., & Koran, M. (2020, April 18). The Virus Doesn't Discriminate but Governments Do': Latinos Disproportionately Hit by Coronavirus. The Guardian. https://www.theguardian.com/us-news/2020/ apr/18/the-virus-doesnt-discriminate-butgovernments-do-latinos-disproportionately-hit-by-coronavirus.
Wan, W. (2020, November 23). Coronavirus Vaccines Face Trust Gap in Black and Latino Communities, Study Finds. Washington Post. https://www.washingtonpost.com/health/2020/11/23/ covid-vaccine-hesitancy/.
Otras referencias
Abbasi, J. (2021). Omicron Has Reached the US —Here's What Infectious Disease Experts Know About the Variant. JAMA. doi:10.1001/jama.2021.22619.
Alsan, M., Stantcheva, S., Yang, D., Cutler, D. (2020). Disparities in Coronavirus 2019 Reported Incidence, Knowledge, and Behavior Among US Adults. JAMA Network Open, 3(6), e2012403. doi:10.1001/ jamanetworkopen.2020.12403
Creech, C.B., Walker, S.C., & Samuels, R.J. (2021). SARS-CoV-2 Vaccines. JAMA, 325(13),1318– 1320. doi:10.1001/jama.2021.3199.
Despres, C. (2021) Update: Coronavirus Cases Rates and Death Rates for Latinos in the United States. Salud America. https://salud-america.org/ coronavirus-case-rates-and-death-rates-for-latinos-in-the-united-states/.
Gemelas, J., Davison, J., & Ing, S. (2021). Inequities in Employment by Race, Ethnicity, and Sector During COVID-19. Journal of Racial and Ethnic Health Disparities, 1-6.
Kahn, B., Brown, L., Foege, W., & Gayle, H. (2.). (2020). Framework for Equitable Allocation of COVID-19 Vaccine. National Academies Press
Kantamneni, N. (2020). The Impact of the COVID-19 Pandemic on Marginalized Populations in the United States: A Research Agenda. Journal of Vocational Behavior, 119, 103439.
Kim, S. J., & Bostwick, W. (2020). Social Vulnerability and Racial Inequality in COVID-19 Deaths in Chicago. Health Education & Behavior, 47(4), 509-513.
Leon, B. (2021, October 5). U.S. News. Medical Mistrust Fuels Vaccine Hesitancy Among Hispanics. https://www.usnews.com/news/health-news/articles/2021-10-05/ medical-mistrust-fuels-vaccine-hesitancy-among-hispanics
Lo, C. H., Nguyen, L. H., Drew, D. A., Warner, E. T., Joshi, A. D., Graham, M. S., ... & COPE Consortium et. al. (2021). Race, Ethnicity, Community-Level Socioeconomic Factors, and Risk of COVID-19 in the United States and the United Kingdom. EClinicalMedicine, 38, 101029
NYU Furman Center. (2020). COVID-19 Cases in New York City, a Neighborhood-Level Analysis. The Stoop. https://furmancenter.org/thestoop/entry/ covid-19-cases-in-new-york-city-aneighborhood-level-analysis
Preidt, R. (2021, October 5). Many Latinos Are Hesitant to Get a COVID-19 Vaccine. NPR. https:// www.npr.org/2021/02/01/962905232/many-latinos-are-hesitant-to-get-a-covid-19-vaccine.
Purtle, J. (2020). COVID-19 and Mental Health Equity in the United States. Social Psychiatry and Psychiatric Epidemiology, 55(8), 969-971.
Sheils M, Haque, A. T., Haozous, E. A., Albert, P. S., Almeida, J. S., García-Closas, M., Nápoles, A. M., Pérez-Stable, E. J., Freedman, N. D., & Berrington de González, A. (2021). Racial and Ethnic Disparities in Excess Deaths During the COVID-19 Pandemic, March to December 2020. Annals of Internal Medicine, 2021. https://doi.org/10.7326/M21-2134.
Tai, D. B. G., Shah, A., Doubeni, C. A., Sia, I. G., & Wieland, M. L. (2021). The Disproportionate Impact of COVID-19 on Racial and Ethnic Minorities in the United States. Clinical Infectious Diseases, 72(4), 703-706.
White, A., Liburd, L. C., & Coronado, F. (2021). Peer Reviewed: Addressing Racial and Ethnic Disparities in COVID-19 Among School-Aged Children: Are We Doing Enough? Preventing chronic disease, 18.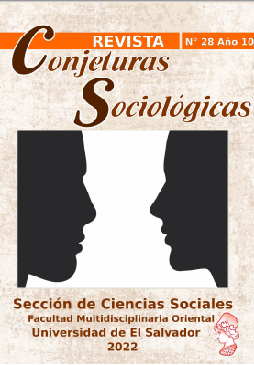 Descargas
Cómo citar
Hernández, R., Ortega, P., Sohler, N., & Marrara, S. (2022). ENFRENTANDO EL COVID-19: Estudio comparativo sobre el comportamiento social de las personas de origen dominicano que viven en los Estados Unidos de América. Revista Conjeturas Sociológicas, 10(28), 70–106. Recuperado a partir de https://revistas.ues.edu.sv/index.php/conjsociologicas/article/view/2344
Licencia
Esta obra está bajo una licencia internacional Creative Commons Atribución-NoComercial 4.0.
Los autores conservan los derechos de autor y garantizan a la revista el derecho de la publicación del trabajo al igual que licenciado bajo una licencia Creative Commons Attribution No Comercial que permite a otros compartir el trabajo con un reconocimiento de la autoría del trabajo y la publicación inicial en esta revista. Los autores pueden establecer por separado acuerdos adicionales para la distribución no exclusiva de la versión de la obra publicada en la revista (por ejemplo, situarlo en un repositorio institucional o publicarlo en un libro), con un reconocimiento de su publicación inicial en esta revista. Se permite y se anima a los autores a difundir sus trabajos electrónicamente (por ejemplo, en repositorios institucionales o en su propio sitio web) antes y durante el proceso de envío, ya que puede dar lugar a intercambios productivos, así como a una citación más temprana y mayor de los trabajos publicados.